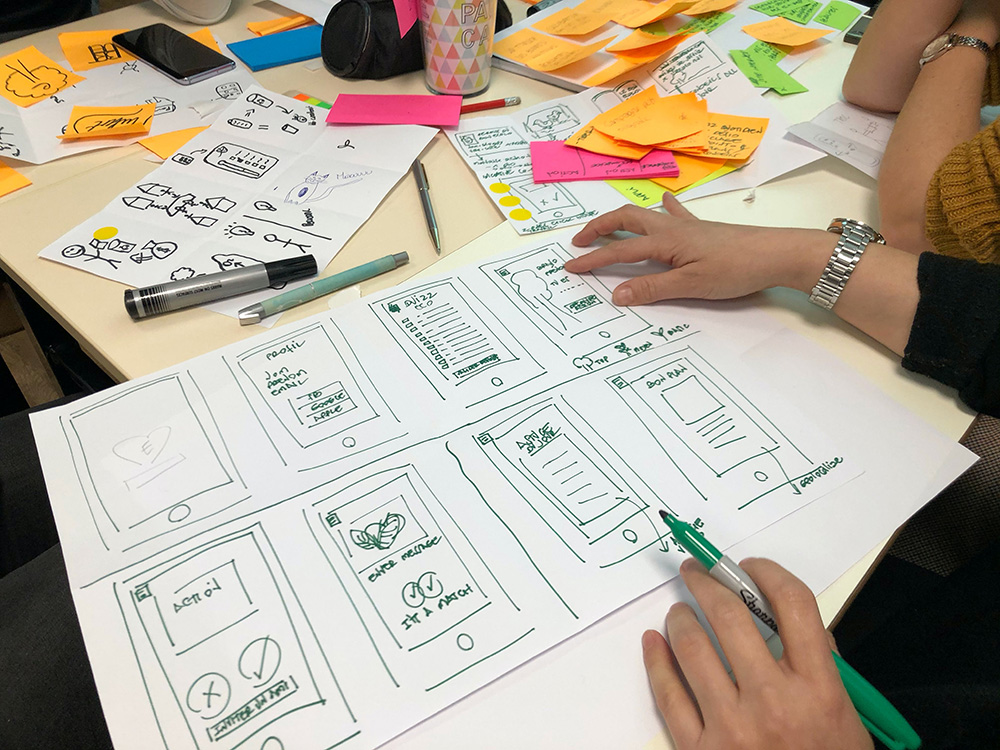 Creative Agency Portsmouth, Hampshire
In today's post let's take a look at the term "creative agency" and what it means, symbolises and represents. To be a creative agency is to deliver awesomeness, thinking outside the box to produce quality graphics, content, media and marketing material.
When looking to hire a creative agency, review a few case studies first, or ask about recent work. Creative folk tend to keep creative, so an example or two of recent projects should not be difficult to obtain.
Remember; if someone says they can deliver X, then make sure they are delivering X for themselves and/or others. With so many creative agencies to choose from, it's important to do your homework and shop around.
Creativity, art and design
As part of our own Tidy Design digital marketing campaign we like to give away free stuff. This is called "link bait", the process of creating content designed to attract backlinks. Obviously this kind of content creation takes time, it is however a long term investment. Below you will find a few examples;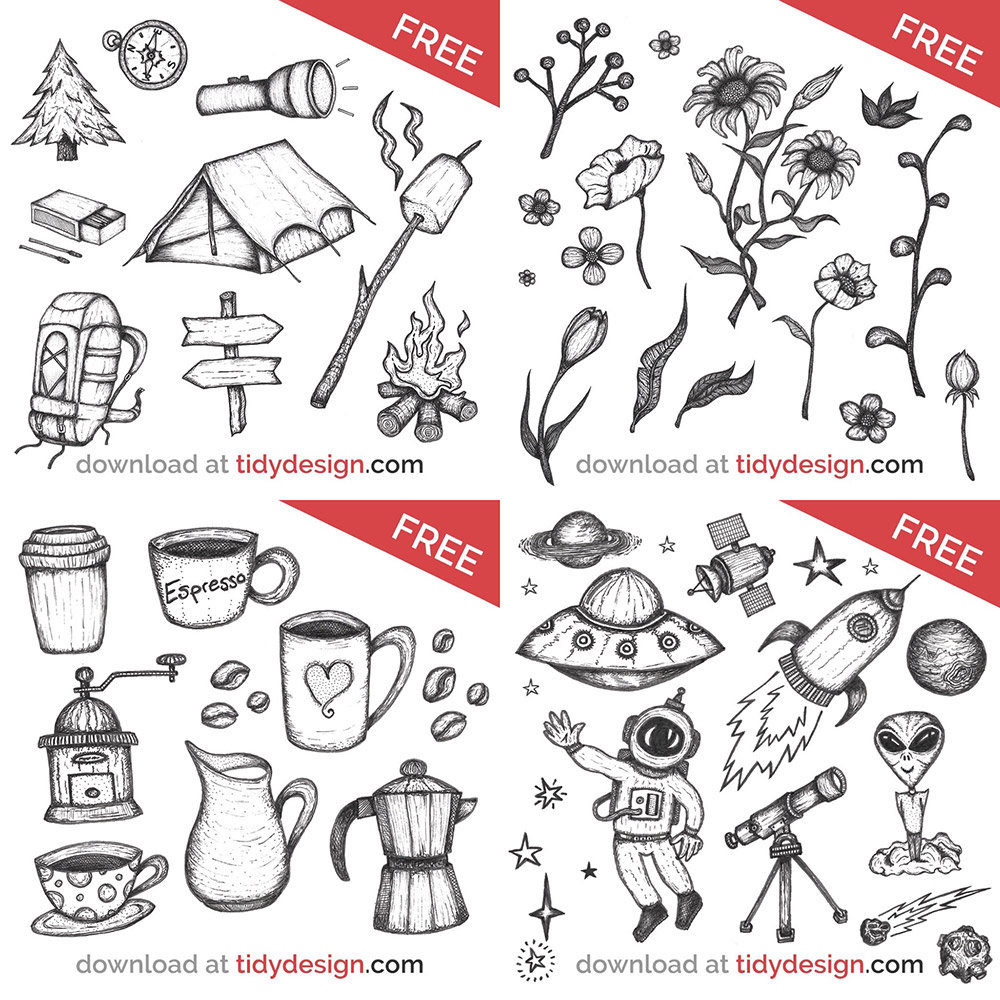 An eye for detail is important when it comes to the heart and soul of a creative agency. Creativity spills into many areas of day to day life, a few obvious sectors include art and design, music and theatre, writing and illustration. If you are looking to hire a creative agency then make sure there is a creative flair AKA some natural ability.
Home schooling doodle…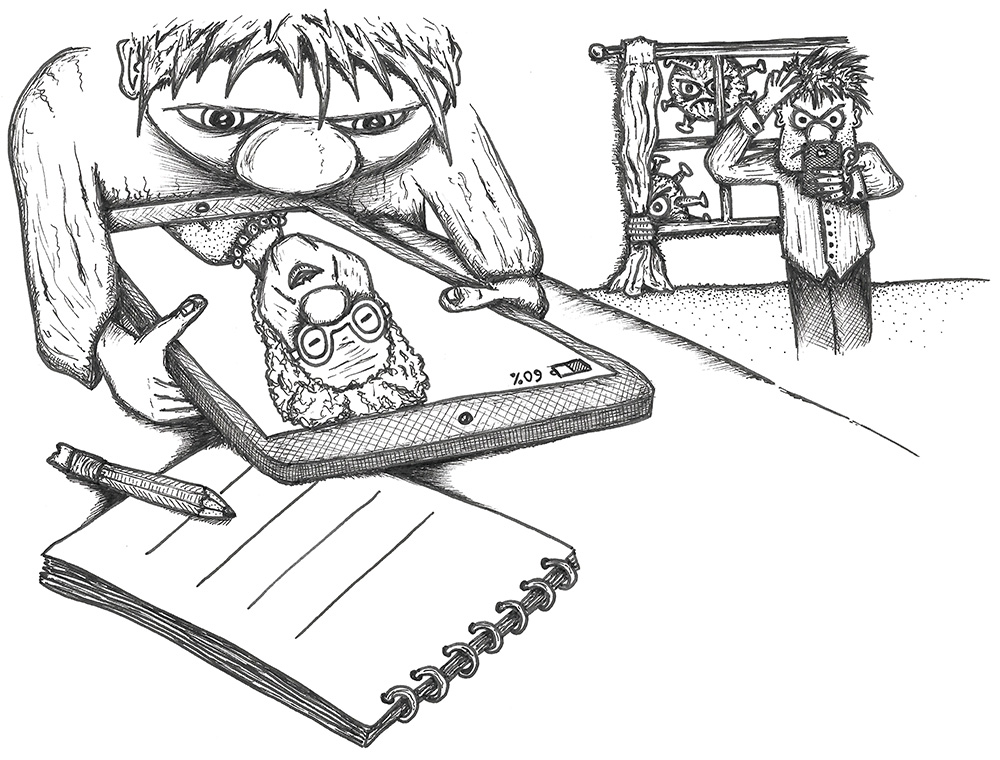 Above is one of many doodles I created over the Summer of 2020, lockdown for me was about producing tons of artwork, learning new tech and keeping creative. When it comes to art and design projects I have worked on many. I guess the project closest to my heart right now is Sea Life Art. This website showcases over one hundred of my illustrations, please take a look…
Creative writing and content
I recently wrote a post about my COVID-19 artwork, a set of illustrations I posted to social media, a look at how people engaged with them.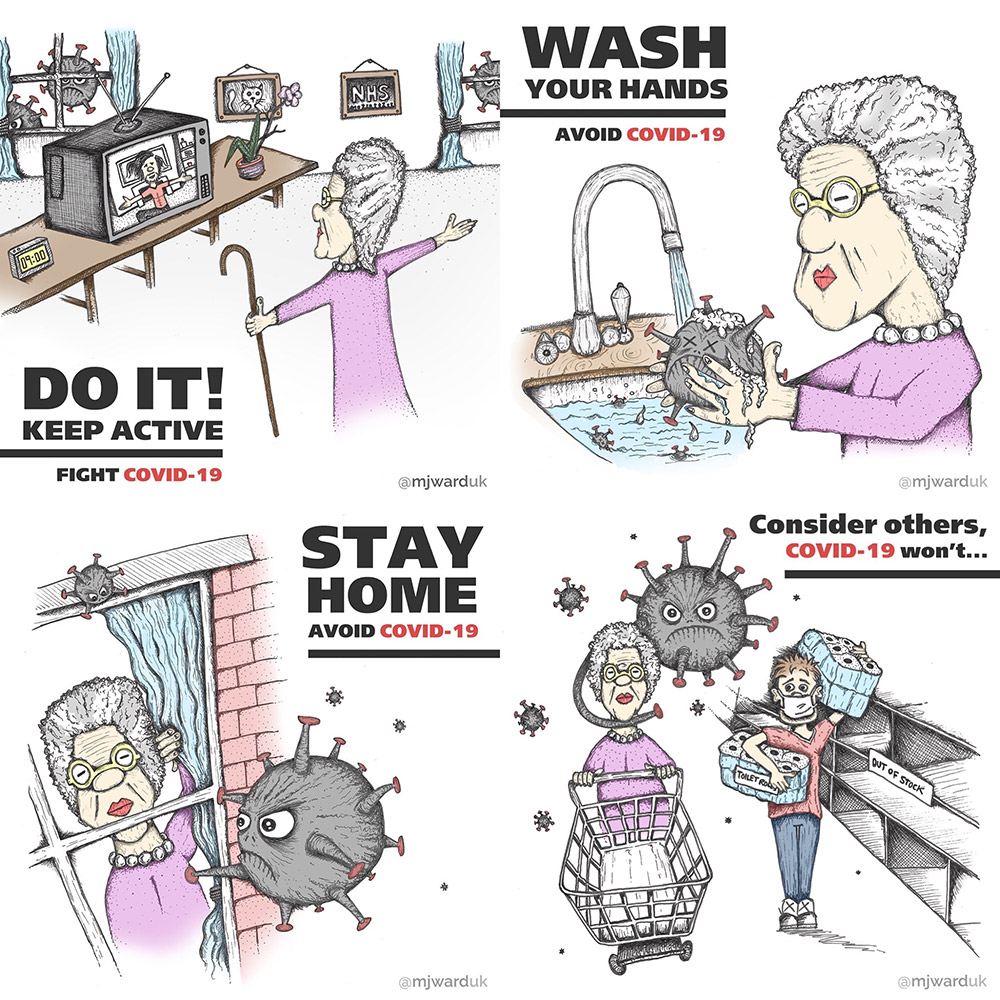 Having nice visuals is great, be it photography, graphics, videos or illustrations. But as important (when targeting Google search) is the copy, your writing, your message. Make sure your content is 100%, a healthy mix of keywords and header tags. Then add a sprinkle of fun, creativity and some call to actions. Finally, a pinch of proof reading, grammar and spell checking.
Your end goal when it comes to content is perfection, it needs to reflect and compliment the visual stuff. In most cases content will represent a company, brand or an idea. So it must answer a question, convey a message, connect with customers or build trust.
When it comes to content creation, I guess this post is a good example of creative writing. I am using my personal blog to expand, develop and experiment with organic Google search. As a creative agency based in Portsmouth, I am targeting certain keywords and key phrases linked to my core business.
The mission here is to promote Tidy Design, channeling traffic to our company website. I really enjoy blogging, as well as a bit of poetry, creative writing and assisting clients with social media content. If you would like some help developing "creative content" then please let me know, I'd be happy to help.
Professional website design
One of our latest website creations was for the Queens Hotel Portsmouth, launched Summer 2020. Here is a short testimonial we received soon after.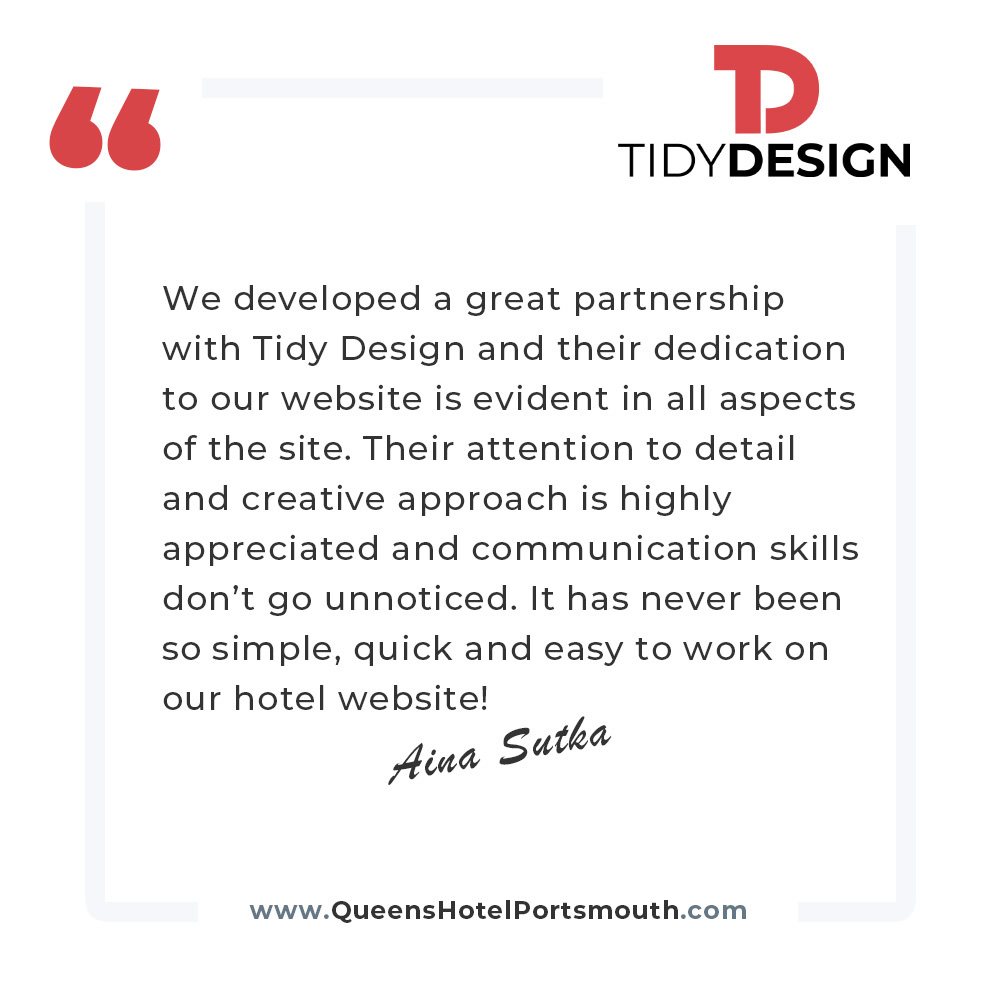 So… you have a selection of awesome graphics and some cool content to match, what next…? It is worth noting that good quality code is another form of art, less is always more! Web design and development comes in many shapes and sizes, what sits under the hood will vary from site to site (the good, the bad and the ugly).
Poorly written code can impact your online success, this is something to consider. For example; if you buy a template or invest in a DIY website then certain boxes wont be ticked. This approach to web dev will likely result in a bloated website, you'd be bypassing version control, no build process, no compression, no UX review, speed audit or Google Search Console etc…
If you are looking to create a web page or a website that syncs up to your marketing campaign, make sure it can deliver. A professional website design will certainly cost more than "off the shelf", however you do get what you pay for in this industry. The visual stuff is indeed great to have, but do not underestimate or devalue what sits behind the scene. We all want a ROI (return on investment), so I'd ask the question; how tidy is your code…
Creative agency in Portsmouth, Hampshire
In this post we have briefly discussed three creative agency topics; (1) the importance of awesome visuals, (2) the need for perfect content and (3) the benefits of a professional website. If you are looking for a creative agency based in Portsmouth Hampshire then please pop over to Tidy Design. Established in 2007, we are here to help support and deliver creative services to all our clients, it would be great to hear from you!
A few more testimonials…
I thought I'd sign off with a few more Tidy testimonials…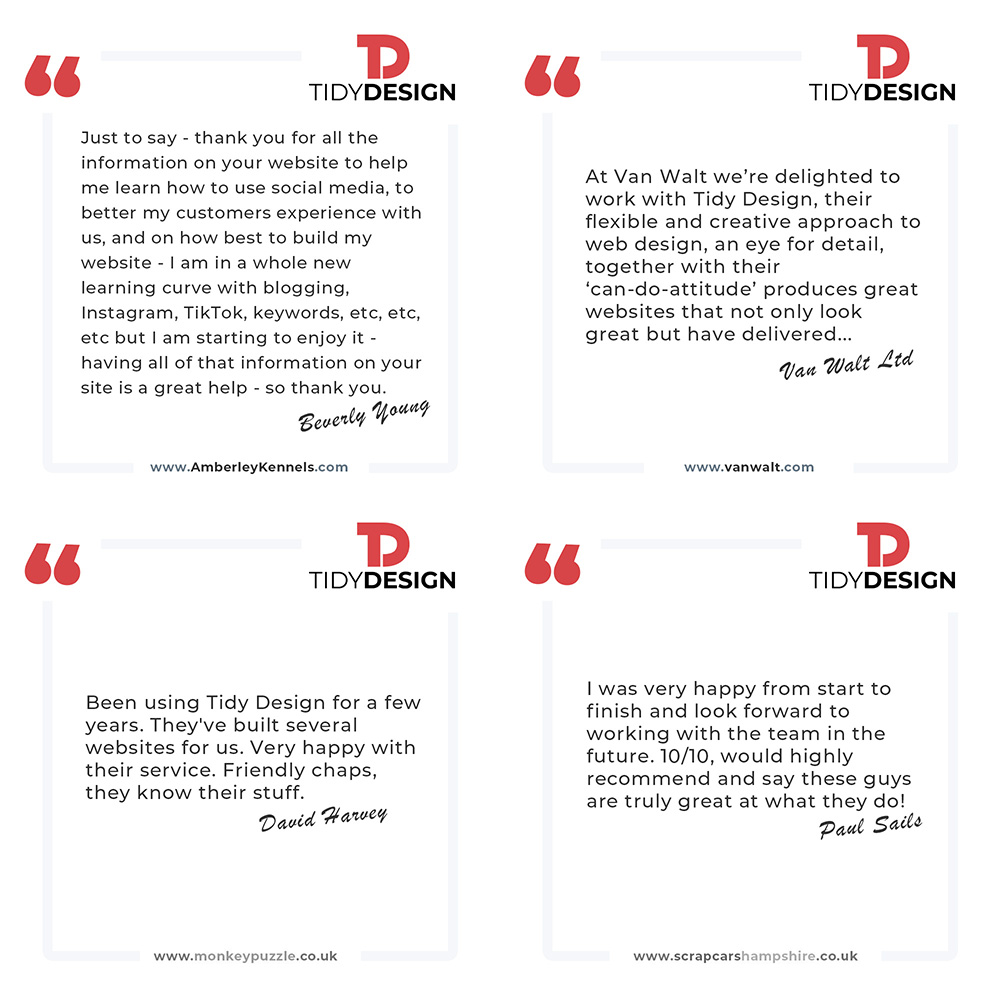 Keeping creative is what we do…
Some digital artwork I created (January 2021). If you are looking for a creative agency based in Portsmouth, Hampshire then please get in touch, I'd be happy to help. Thank you for reading…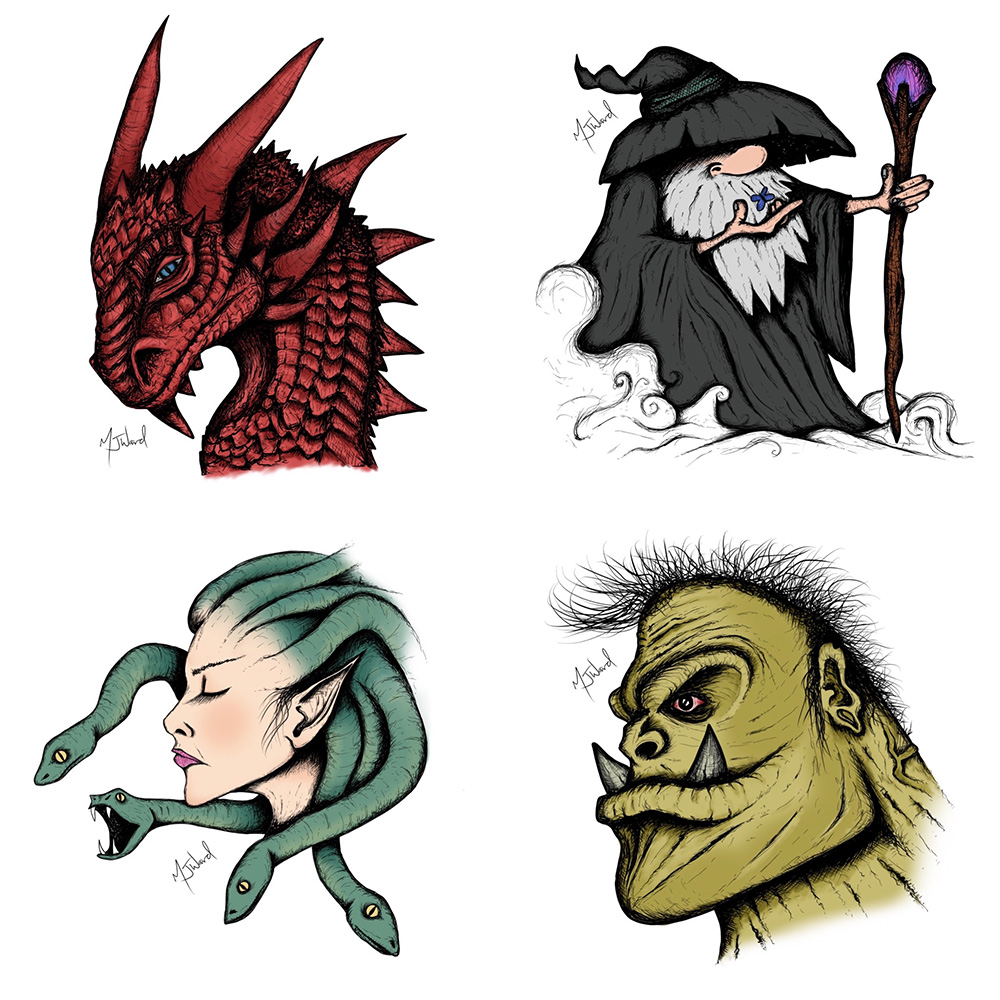 Posted; 12th September 2020

by Michael Jon Ward.
Hello! Thank you for visiting my website and checking out this post. Please email me if you'd like to work together, or message me via social media.