The Southsea Seagull
A short Southsea themed story I wrote in May 2023. This is a story about The Southsea Seagull and his love of chips. It will form part of a collection of Southsea and Portsmouth themed stories, available to buy on our Southsea Vibe website.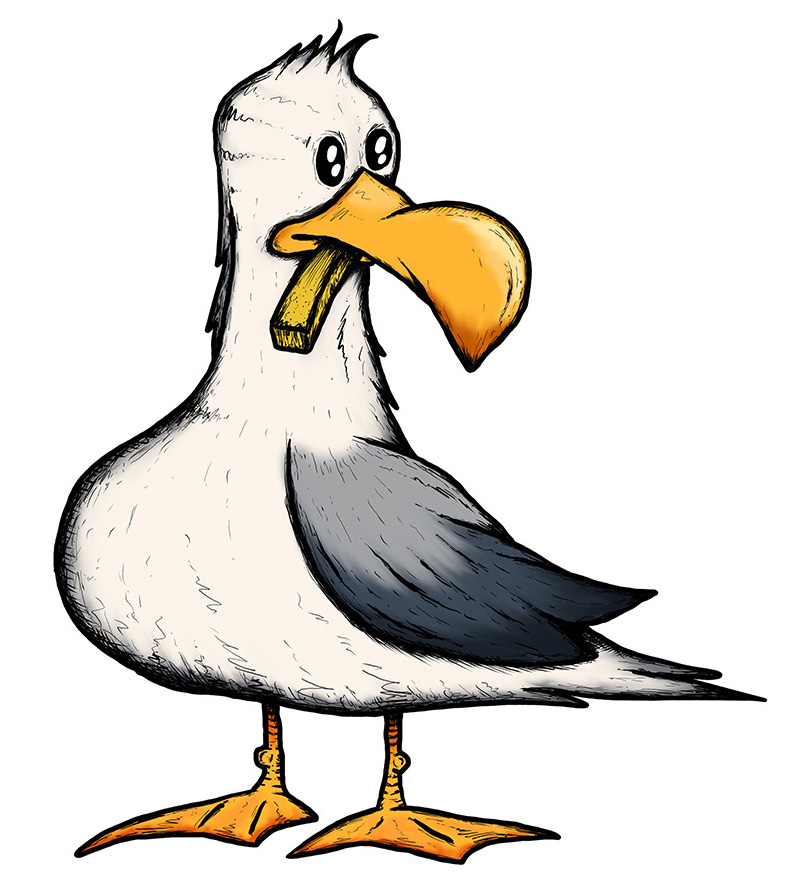 The Southsea Seagull
High above the stones and shells
High above the pier
Looking down for food to eat
You'll know when he is near
He really does love chunky chips
And he loves the batter
There is no diet on his mind
He's happy getting fatter
Pigeons, crows and other gulls
They all know the score
This seagull is relentless
Always wanting more
With a big fat bloated belly
He struggles to fly far
A giant poop from high above
Destroys a nice clean car
You're kidding me, hungry again
Will he ever stop!
If that belly got much bigger
This gull would surely pop
Daily trips to Southsea Beach
Looking out for food
Canoe Lake, the castle too
Depending on his mood
Anywhere you'd eat your chips
This is where he'll be
Waiting for a chip to fall
A chip to eat for tea
This gulls eyesight is not great
Children may well shriek
Small fingers often look like chips
And end up in his beak
There is no cloud above you
There is no eclipse
It's just The Southsea Seagull
Staring at your chips…
Written & illustrated
by Michael Jon Ward.
Hello! Thank you for visiting my website and reading this story, it means a lot! Please email me if you have any questions, or message me via social media.
Other books...
A collection of kids halloween stories I started work on in 2020. Both my boys love halloween, so I decided to write and illustrate some scary stories for them. Below is a taster, some FREE spooky halloween stories for you to enjoy…
Read Now
A short story I wrote in May 2023. A nut obsessed squirrel embarks on a journey. Can he keep hold of his nuts? Where will his nut sack end up? Is there a happy ending? This is a story to make you smile, and also highlight how important it is we check our nuts…
Read Now
A Website & Graphic Designer, Artist & Digital Marketing Consultant in Southsea, Portsmouth
Registered Address: 29c Clarendon Road, Southsea, Portsmouth, PO5 2ED.